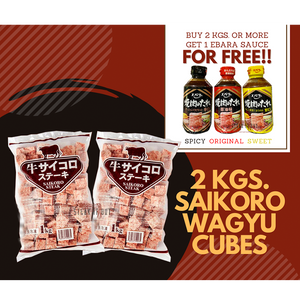 60-80 cubes per pack, 1kg
Description:
Flavourful Wagyu Cubes. Although it is not 100% from wagyu beef, you can experience flavourful, quality, melt-in-your-mouth goodness. These cubes are usually served to known Japanese Restaurants. Also, it is the Top of our Bestsellers. And that's legit.
Perfect for:

Cooking Instruction:

Simply pan-fry or grill with salt and pepper on medium high heat for about 4-6 minutes. No need to add oil as the wagyu cubes has its own. You can also add thyme or rosemary for additional flavour.